For as long as air conditioning has provided cool air to building occupants, so has managing the condensate that comes from those HVAC systems. While having to deal with condensate is nothing new, there are always opportunities to better manage it to ensure that systems run properly and avoid a costly overflow leading to water damage. Asurity™ condensate management products from DiversiTech® provide a complete line of products that offer redundancy in preventing and managing the effects of condensate.
In this post, we're going to show you the latest products from Asurity's condensate management line to help you manage all-too-common condensate issues:
The ULTRA-CP Pump Series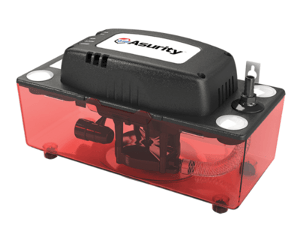 The ULTRA-CP Pump series is an upgraded version of our tried and true CP-22 condensate pump series. After receiving lots of contractor feedback, our skilled DiversiTech engineering team worked on how to make it easier to inspect and service our pumps without losing any of the features HVAC technicians have relied on for years including 22 feet of lift, an integrated overflow switch, and an industry leading 3 year warranty, among others. The solution was an obvious one: make the tank translucent to allow for quick inspection without taking the pump apart.
As an HVAC technician, imagine being dispatched on a service call regarding a water issue and having to determine if the condensate pump is the culprit. Normally, you would have to take it apart to see if it is functional. With the ULTRACP-22, servicing the pump is easier than ever, because you can visually check the tank's cleanliness and water level. No time is wasted that can be used to identify the real issue. This is truly a product designed with both the homeowner and technician in mind – available at your local HVAC distributor.
The Ductless Undermount Condensate Pump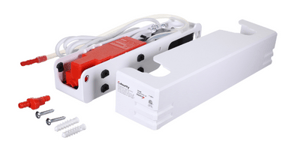 Condensate is not just an issue in traditional HVAC installations. As ductless systems become more popular, it is important to ensure that the right products are in place to keep the system running at peak efficiency. The Asurity QUIETMINI-M is an undermount pump designed to easily install directly beneath mounted ductless air conditioners and provide condensate removal using ultra-quiet pump technology. This sleek, stylish design comes with a built-in safety switch and removable reservoir for easy maintenance. Rated at 21 dB, this is a must have for any ductless installation in quiet locations.
Pro-Treat Line Guard
Clogged, slow, or stopped drain lines – it's a common issue caused by the accumulation of slime in condensate lines that HVAC technicians service time and time again. There has never been a permanent solution to this issue until now. Introducing the Asurity Pro-Treat Line Guard: a copper and silver infused line that prevents slime from attaching to the inside of a condensate line and causing build up and blockages. This leave-in product preserves condensate flow while giving peace of mind against costly water damage or flooding.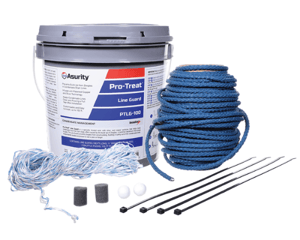 As the only permanent solution designed to prevent clogged drain lines from slime buildup, the Pro-Treat Line Guard can easily be installed on any new or existing condensate drainage system to keep lines flowing freely for up to 2 years.
The Dual Voltage Wet Switch Detector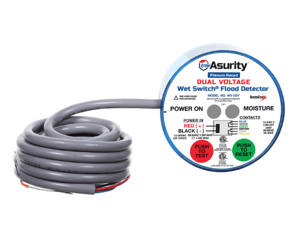 The Asurity Dual Voltage Wet Switch was created as an enhancement to our industry leading Wet Switch, WS-1, could not. The new WS-2DV includes 2 sets of control signals completely isolated from each other - one set to control the device and one set to interface with an alarm or monitoring system. With the same sensitivity as the original, all it takes is 1 to 2 drops of water to shut down the unit. Multiple switches can be connected to expand the desired area of protection. Looking to upgrade your WS-1 switches? Not a problem. The new WS-2DV works anywhere a WS-1 would be used.
The Waterless Trap
The new Asurity Waterless Trap, or WTRAP for short, is the smallest trap in the market. It's designed to replace P-traps and other conventional traps for negative pressure systems. Its size reduces conventional trap height up to 60% and makes it easy to install in low profile setups that sit in tight or cramped spaces.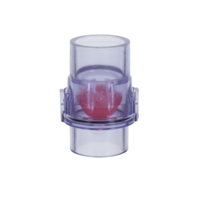 Why should I care about the trap on the equipment?
U and P-Traps are fine for sewer applications, where there is no air pressure differential between the living space and the sewer line on sinks, showers, or toilets. However, on an HVAC unit that has a fan that creates air pressure changes in the system, the water in the P-Trap can get sucked into the air handler causing a mess. P-traps on roofs in the winter can freeze and get destroyed, and in the summer can easily dry out in low humidity environments. The WTRAP will never dry out, freeze, or break due to changing climates. You can find the last trap you'll ever need at your local HVAC distributor.
Condensate Pump Pan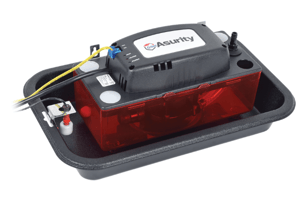 While best practice is to place the condensate pump in the secondary drain, situations occur that it's just not possible. Now, you don't have to compromise – the Asurity Condensate Pump Pan provides extra redundancy in a condensate management system to prevent flooding and water damage. The CP-PAN is designed with space for the Asurity Drain Pan Clip Switch (CS-3 sold separately) to shut down the system and prevent overflow. Since the pan is a fit for most condensate tank pumps, placing the CP-PAN in all HVAC systems is a no brainer.
Asurity is a complete condensate management system of pumps, switches, drain pans, accessories and treatments designed to create working, condensate management system solutions and peace-of-mind. Visit the Asurity website to see our full range of products and be sure to sign up for the DiversiTech newsletter to stay up to date on content across all of our brands.
Subscribe to DiversiTech
Don't forget to subscribe and stay up to date on all the latest content from DiversiTech and our family of brands.